Best Pest Control in Palm Beach County, FL
Palm Beach County, FL is the place we're lucky enough to call home. Along the Atlantic coastline, nestled East of the Everglades and Lake Okeechobee, our community has a lot of beauty to behold; the beaches, the parks, the subtropical climate.
We experience a great influx of visitors from all around the country, and not all of them are human. Yes, unfortunately nuisance pests are a reality in Southern Florida, meaning your Palm Beach County property has an ongoing risk of infestation. You need reliable, year-round protection from the pest professionals, and you've come to the right place.


Our Palm Beach County Service Area Includes:
Home Pest Control In Palm Beach County, FL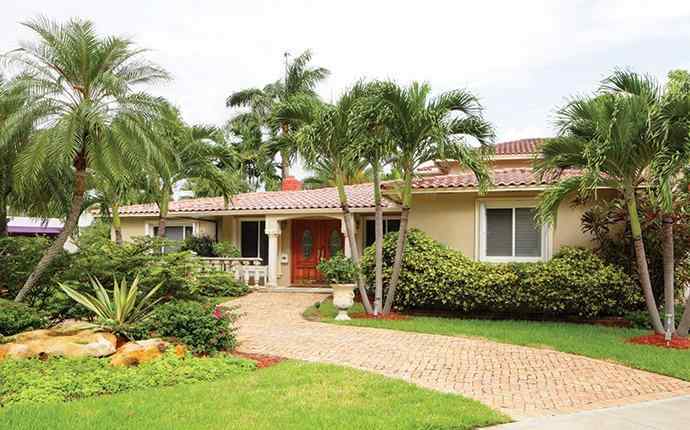 If you own a home in Palm Beach County, you're probably aware that living in a humid subtropical climate comes with its fair share of consequences. One of the big threats that you need to watch out for is pest infestation. Your home is filled with pest attractants, and these intruders are on their way to gain entry into your house, if they haven't already done so.
Your best protection from household pest activity is regular service from the pest professionals. Native Pest Management is proud to currently service over 3,000 homes and businesses in the local area with dependable residential pest control solutions. Our home service plans guarantee year-round protection from infestation.
From providing pet safe pest control to fumigating your home for termites or providing a guaranteed no tent termite treatment, we offer a comprehensive selection of treatment plans that we always personalize to fit your needs. Once we complete the appropriate treatment, we utilize preventative applications around your property to deter pests from coming back.
From start to finish, all of our products are safe for the environment, your children, and your pets. We also offer organic service options to meet the needs of our valued clients. As a company of certified Top Rated Local® Experts, we can safely say that when you go with Native Pest Management, you go with the best. Give us a call today to schedule a free inspection.
Commercial Pest Control In Palm Beach County, FL
With so many businesses operating throughout Palm Beach County, nuisance pests sure do have their fair share of options. However, they're not really picky about which locations they choose to infest.
All they need is easy access to ample sources of food, water, and shelter. Your facility is brimming with those resources, and that's why you need to protect your property from infestation.
Native Pest Management provides complete commercial pest control services to a wide variety of businesses. Through the use of our trusted IPM (Integrated Pest Management) strategies and the most advanced pest control practices on the market, we guarantee year-round pest protection you can count on.
We offer customized pest control plans available on a monthly, bi-monthly, or quarterly basis, depending on your needs and preferences.
Call us today to further discuss your commercial pest control needs. We'll respond to your query within 24 hours and get your initial inspection scheduled right away.
Guide To Detecting Rodent Activity In Palm Beach County, FL
Mice and rats love South Florida properties. Between the easy access to food and water and all the harborage areas around your property, your home is an attractive home for rodents. The first step to dealing with a rodent infestation is being able to detect these unsanitary intruders.
Firstly, rodents tend to gravitate towards dark, remote areas around the property. They often hang around food sources. Some common hiding areas include the pantry, under the sink, in cupboards, and behind appliances.
If there are rodents in your house, you'll likely see droppings around active areas, indications of chewing on food packaging, and you may hear nightly scampering noises coming from inside the walls and along floors.
If you suspect any rodent activity on your Palm Beach County property, call us today. Native Pest Management offers effective rodent control and prevention services to protect your property and loved ones from the consequences of rodent infestation.
Helpful Tips For Avoiding Bed Bugs In Palm Beach County, FL
When it comes to avoiding bed bugs, cleanliness goes a long way. The more clutter and mess you have around your house, the more harborage areas there are for bed bugs. It's important to vacuum frequently, paying special attention to cracks and crevices where bed bugs love to hide.
You should also regularly wash and dry all of your linens, bedding, and clothing on high heat. This will help kill off any existing bed bug activity. Steam clean upholstery, curtains, and furniture, and always use protective encasements on mattresses and box springs.
The best protection that you have from bed bug infestation is professional pest services. If you suspect any bed bug activity, contact us right away. We'll identify the problem and develop the right bed bug control treatment plan for you.
Quality Services For South Florida Properties
Founded and managed by a family of West Palm Beach natives, Native Pest Management is your local, go-to source for dependable pest control services. As dedicated members of the South Florida community, we're proud to protect homes and businesses throughout Palm Beach County, Broward County, Martin County, and St. Lucie County. Since 2015, we've offered quality pest control and lawn care services, treating our customers like family every step of the way.
We offer a broad selection of services, including:
Flying insect control & prevention

Rodent control and prevention

Golf course turf treatments
Whatever kind of pest situation you're dealing with, the team at Native Pest Management can help. We use the safest products and treatments to completely rid your property of pest activity, effectively protecting your home and/or business from the horrors of infestation. Contact us today to get your free quote.
Latest

Blogs

Stay informed about pests and pest related issues in your area!

View All Blogs